Affordable Dentures in Mountain View, CA
Dentures are artificial teeth and gums that are created in your mouth and made by your dentists to replace natural teeth that have been lost or extracted. Dentures can be a comfortable, attractive replacement for your natural teeth that, with proper care, can help you live a healthier, happier life. Consult with our dentists, Dr. Trinh Lee and

Dr. Suzanna Lee

to learn more about the different kinds of dentures and whether this treatment is good for you. If you live in the area of Mountain View, CA, and are looking for a dentist office that provides affordable and quality dentures, look no further than Allure Dental Center! For more information, contact us or schedule an online appointment. We are conveniently located at 570 N Shoreline Blvd Mountain View, CA 94043.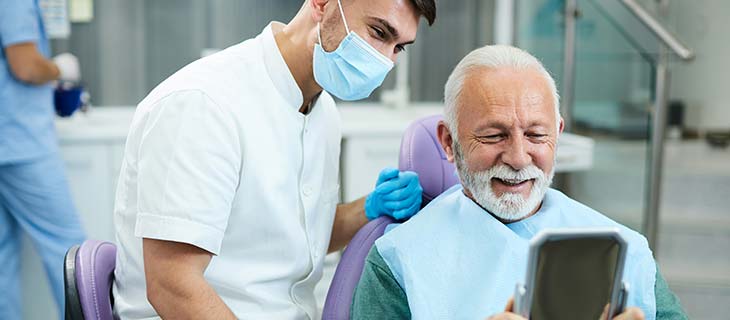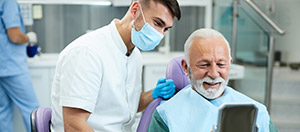 Table of Contents:
What is the cheapest price for dentures?
Can you get dentures that look like real teeth?
What are the best dentures available?
Do dentures change the way you speak?
Anytime you begin to lose teeth, it can feel unsettling and discouraging. That said, it is a shame when that experience keeps you from smiling! At Allure Dental Center, we provide a variety of affordable and high-quality denture options to adults of all ages so that you can continue to show off your beautiful smile.
What is the cheapest price for dentures?

The price of dentures fluctuates according to various factors, such as the particular clinic, the type of dentures, whether they are partial or complete, removable or fixed, and if you require any tooth extractions to position the dentures properly. The price for dentures will also be lower if you have insurance. The price range of dentures is quite broad, around $500 on the low end, and up to $8000 on the high end! For an estimate of what dentures could cost at Allure Dental Center, please call us, and our financial administrator can provide an estimate for you based on your specific denture needs. We can also let you know what our cheapest denture option is. We are happy to accept preferred provider organization (PPO) insurance plans, including Aetna, Cigna, Delta Dental, Humana, and others! We also offer 0% financing options through CareCredit and LendingClub, in order to make our services most accessible to you!
Can you get dentures that look like real teeth?

Absolutely! We provide cosmetic implant retained dentures at Allure Dental Center that are comfortable and decidedly natural looking. Implant retained dentures are anchored over an implanted screw set securely into the jawbone that mirrors the shape of your tooth roots. As a result, your dentures have a slimmer look, a more streamlined shape, and are custom-fitted to your mouth! We also provide full and partial dentures that have a natural look, depending on what you are looking for.
What are the best dentures available?

While cosmetic dentures or implant-retained dentures are on the highest end of the scale for available dentures, the best dentures available ultimately depends on what you want out of them! If you are looking for the most natural look, then cosmetic dentures are the best option. For permanence, the best choice is implant-retained dentures. If you are looking for a cheaper option, then removable dentures are likely your best bet. Removable dentures are securely suctioned against your gum tissues and removed at the end of the day with a technique that your dentist will demonstrate for you at your denture appointment. Moreover, if you still have some healthy teeth, we can also provide partial dentures!
Do dentures change the way you speak?

It will likely take some time to get used to wearing dentures, which may change the way you speak for a temporary period. However, it is also difficult to speak clearly when you have missing or damaged teeth. As a result, dentures will improve your ability to communicate clearly in the long run. An excellent way to get used to your dentures faster is to practice reading aloud to yourself and repeating the words you have difficulty pronouncing. This way, you can improve your ability to speak clearly with dentures without the pressure of anyone listening to you!

We invite you to Allure Dental Center if you are looking for affordable dentures in Mountain View, CA! If you would like to schedule an appointment with us, you can do so through our website or call us at (650) 538-8826 during the hours of 9:00 AM to 6:00 PM from Monday to Thursday. You can find Allure Dental Center at the convenient location of 570 N. Shoreline Blvd in Mountain View, California. We serve patients from Mountain View CA, Sunnyvale CA, Los Altos CA, Stanford CA, Menlo Park CA, Atherton CA, Loyola CA, Cupertino CA, Palo Alto CA, Redwood City CA and surrounding areas.

Additional Services You May Need