Cosmetic Dentistry in Bay Area Mountain View, CA
Cosmetic dentistry involves treatments that restore or improve the appearance of your teeth and smile. At Allure Dental Center, Dr. Trinh Lee and

Dr. Suzanna Lee

provide cosmetic dentistry services such as teeth whitening, crowns, and veneers. We use tools and strategies to ensure that you have a comfortable experience throughout your dental visit. For more information, contact us or schedule an online appointment. We serve patients from Mountain View CA, and surrounding Bay Area cities.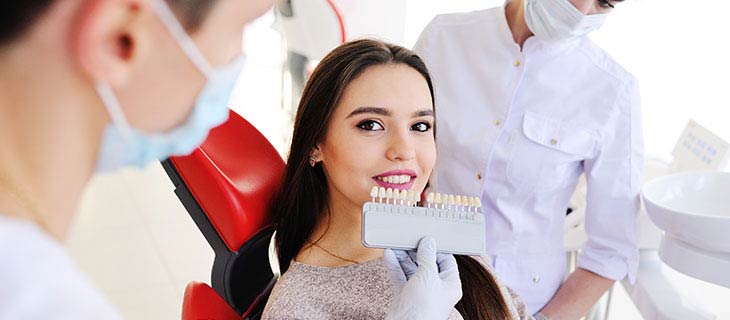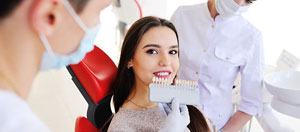 A beautiful, healthy smile is something that you can't put a price tag on. It gives you confidence, helps you make a great first impression, and even changes the way you act around your family, friends, and co-workers. That's why we offer comprehensive cosmetic dentistry solutions in the San Francisco Bay area at our Mountain View, CA cosmetic dentist office to help you achieve the smile you deserve.
It doesn't take a lot to have beautiful teeth – but it does take going to the right dentist. At Allure Dental Center, cosmetic dentists Drs. Trinh Lee and Suzanna Lee are regarded as some of the best cosmetic dentists in the Bay Area and are accredited by the American Academy of Cosmetic Dentistry.
Complete Smile Makeovers
A complete smile makeover is the process of improving your smile through one or more cosmetic procedures such as veneers, crowns, dental caps, porcelain bridges, and teeth whitening.
Our cosmetic dentists use state-of-the-art smile simulation software to help show you exactly how your cosmetic dental procedures can improve your smile and overall facial appearance.
To create your best smile, Dr. Trinh and Dr. Suzanna will also take into account your overall facial appearance, including your gums, lips, skin tone and hair color.
Tooth Colored Dental Fillings
Composite tooth-colored dental fillings are a high standard of care in tooth restorations. Not only are they aesthetic in nature, but they also minimize the invasiveness of your dental procedure. Compared to silver fillings, tooth-colored fillings offer many additional benefits, including:
Freedom to place the filling anywhere throughout the mouth
Smaller, less invasive placement process
Maximized enamel retention
Improved aesthetics
Free of metals and mercury
We can even use these white fillings to replace your old silver fillings. They are frequently used along with veneers, bonding, and teeth whitening as part of Allure Dental Center's smile makeover process.
Instant Orthodontics
When most people want a straighter smile, they think they need to get braces. What if that wasn't the case? The cosmetic dental experts at Allure Dental Center can quickly straighten your smile with a process called, "instant orthodontics".
Instant orthodontics isn't really braces at all. Over two weeks, Dr. Trinh and Dr. Suzanna will use porcelain dental crowns and dental veneers to help give you the smile you deserve!
Your teeth will appear straighter, whiter, fuller and more even without having to get braces or use clear aligners! This process erases the appearance of stained, discolored, crooked, and gapped teeth with just a few trips to our cosmetic dental office in the Bay Area.
Dental Bonding: An Alternative Option To Improve Your Smile
Are you unhappy with the way one or two of your teeth look? Drs. Trinh Lee and Suzanna Lee can use cosmetic dental bonding materials to improve the overall appearance of your smile.
Bonding is perfect for minor irregularities in your smile, like:
Tooth color
Irregular tooth shape
Gaps or spaces between teeth
Crooked teeth
Chipped, worn enamel
Allure Dental Center dental bonding appointments are relatively quick and simple to complete. In fact, you may not even need to be numbed!
Dr. Trinh or Dr. Suzanna will prepare your tooth and then apply a small amount of color-matched composite material to the area of concern. The composite is then shaped appropriately and hardened into place with a bright LED light. Once we're finished, it will look as if your tooth is completely whole and natural!
Porcelain Dental Veneers
Teeth veneers can offer the most dramatic smile transformation possible, as they cover the front of your teeth completely! Porcelain dental veneers provide a perfectly white and uniform appearance to your teeth and hide any irregularities found in your smile.
Prepless Dental Veneers
This type of dental veneer can provide the same flawless aesthetic to your smile as porcelain veneers, but is removable. Prepless dental veneers can be applied to your teeth without filing down healthy tooth enamel. If you ever choose to have them removed, your natural teeth will appear just as they did before the veneers were applied.
Gingival Recontouring
If you feel your smile is overshadowed by too much gum tissue, Dr. Trinh and Dr. Suzanna can treat this condition with our dental laser. Once your treatment is completed, more teeth and less gum tissue will show when you smile. The gingival recontouring procedure can also improve your overall oral health!
KöR Teeth Whitening
The KöR teeth whitening systems allow us to remove even the deepest of stains, such as those caused by tetracycline medication. Out of the four different levels of whitening available, we will select the one that best addresses your unique needs.
With KöR teeth whitening you can choose between in-office treatment or a set of take home trays you can wear in your own time. If you choose same day in-office whitening, we'll include a set of trays and take home gel for you to extend your results and maintain them for months to come.
In-Office ZOOMⓇ Teeth Whitening
At Allure Dental Center, we also offer Zoom® laser teeth whitening treatment for patients who'd like a whiter smile from an in-office treatment. The whitening procedure take about an hour, but our dental team always recommends an exam and cleaning before the whitening so you get the best results possible!
Questions About Cosmetic Dentistry?
Ready to reveal your best, brightest smile? Are you looking for the best cosmetic dentist near you? Call Drs. Trinh Lee or Suzanna Lee today at our San Francisco Bar area dental practice in Mountain View, CA to schedule your cosmetic dentistry consultation! We serve patients from Mountain View CA, Sunnyvale CA, Los Altos CA, Stanford CA, Menlo Park CA, Atherton CA, Loyola CA, Cupertino CA, Palo Alto CA, Redwood City CA and surrounding Bay Area cities.

Additional Services You May Need