Benefits of Dental Implants for Seniors in Mountain View, CA
Dental implants are a popular, effective, and simple tooth replacement option for seniors. They can provide a natural-looking and comfortable alternative for a lost tooth that can serve for many years. A dental implant is an artificial tooth root that is implanted in your jaw to support a prosthetic tooth or bridge. Dental implants for seniors have significant benefits, including enhanced chewing and speaking abilities. At Allure Dental Center, our top-rated dentists, Dr. Trinh Lee and

Dr. Suzanna Lee

provide fantastic dental implant services for seniors. For more information, contact us or schedule an online appointment. We are conveniently located at 570 N Shoreline Blvd Mountain View, CA 94043.View, CA 94043.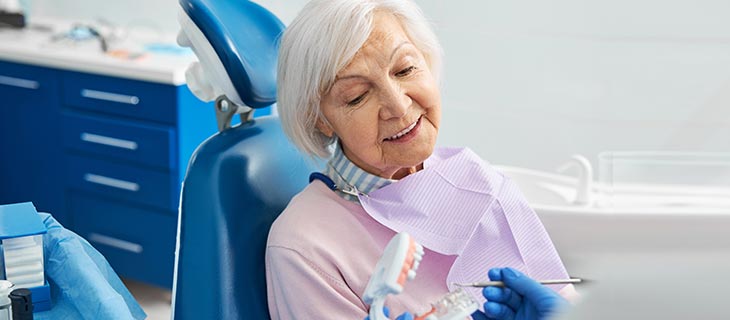 Table of Contents:
Are dental implants safe for seniors?
What happens if you don't have enough bone for dental implants?
Can dental implants be covered by medical insurance?
Quality of life is essential for every living human being, and freedom and a vibrant social life are critical factors in that equation. As we age, it is common for our teeth to decay at an increased rate, leading to the requirement of full or partial dentures. However, dentures can significantly hinder your quality of life, causing you pain and discomfort when eating your favorite foods or difficulty in socializing with ease. With that in mind, dental implants may be an excellent alternative for you so that you don't have to sacrifice your quality of life for the health of your teeth. At Allure Dental Center, our dentists would be delighted to provide this service to you!
Are dental implants safe for seniors?

You may be happy to find out that there is no upper age limit when it comes to who can safely receive dental implants! Even for those who have reached the golden age of 90 and up, dental implant success rates are highly favorable. In fact, dental implants are safer for elderly individuals who are reasonably healthy than they are for younger patients who suffer from blood clotting disorders, cancer, compromised immune systems, substance abuse, or uncontrolled diabetes. When assessing your suitability for dental implants, your dentist will consider your general health, as well as your bone and oral health, and what sort of medications you regularly take. Thus, age is not a consideration! That said, elderly patients typically take longer to heal from surgery than younger patients. As a result, it is usually best practice to wait four months before placing the teeth rather than three, depending on how well your gums are healing from the implants.
What happens if you don't have enough bone for dental implants?

While you must have sufficient jawbone density for a dentist to perform a dental implant procedure safely, there are ways to build that bone density back up! As such, insufficient bone density is not necessarily an impassable impediment to a dental implant procedure. Bone density naturally decreases whenever you lose any teeth. This reduction in bone density can happen due to gum disease, cavities or infection, injury or trauma, or congenital disorders.

At Allure Dental Center, our highly skilled dentists can safely conduct either a sinus lift or a bone graft to create more space and bone density to perform the dental implant safely. With a sinus lift, our dentists move the sinus membrane upward so that they can add new bone between your jaw and maxillary sinuses. The recovery period for a sinus lift is approximately one week, but it takes at least six months before the added bone is strong enough to support the implant. With bone grafting, the recovery period is around two to three weeks, and it takes at least three months for the bone to be strong enough to support the implant.

Our dentists, Dr. Trinh Lee, and her sister, Dr. Suzanna Lee, have received the highest accreditation status with the American Academy of Cosmetic Density (AACD) and are also Diplomates of the American Board of Oral Implantology (DABOI). As such, you can trust them to deliver impeccable results, whether you need a bone graft, dental implant, or sinus lift!
Can dental implants be covered by medical insurance?

If you have medical insurance, you will likely need a doctor's referral for dental implants to receive coverage for the procedure, as dental implants are not automatically considered a necessary treatment. We recommend verifying with your insurance provider what sort of coverage they will provide for you before you go ahead with dental implant treatment to avoid any confusion or complications. We are happy to accommodate any insurance coverage you have for dental implants at Allure Dental Center!

If you are an elderly individual considering dental implants, we would love to be of services at Allure Dental Center! For an appointment, please call us or schedule one through our website. Our hours of operation are 9:00 AM to 6:00 PM from Monday to Thursday. You can find Allure Dental Center at 570 N. Shoreline Blvd in Mountain View, California. We serve patients from Mountain View CA, Sunnyvale CA, Los Altos CA, Stanford CA, Menlo Park CA, Atherton CA, Loyola CA, Cupertino CA, Palo Alto CA, Redwood City CA and surrounding areas.

Additional Services You May Need