4 Questions to Ask A Dental Implants Specialist in Mountain View CA
Dental implants are metal screws that keep dental crowns, bridges, or dentures in place. Dental implants are an appropriate option if you have loose or missing teeth caused by tooth decay, root fractures, clenching or grinding of your teeth, gum disease, or a face injury. Dr. Trinh Lee and

Dr. Suzanna Lee

ensure that you will feel satisfied and comfortable with the dental implant services offered at Allure Dental Center. For more information, contact us or schedule an online appointment. We are conveniently located at

570 N Shoreline Blvd Mountain View,

CA 94043

.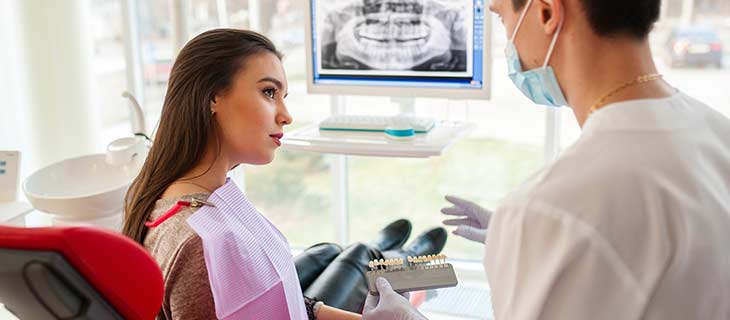 Table of Contents:
What are the types of dental implants?
How much do dental implants cost?
What is the best age for dental implants?
What are the benefits of dental implants?
Our teeth help us chew, talk, and make our smiles exponentially more striking. When a tooth becomes damaged, it can be cause for concern, and if not treated soon, can result in dangerous complications. In some cases, a tooth must be removed, however there are a number of treatments that can restore a full set of teeth, including dental implants.
What are the types of dental implants?

The types of dental implants include:

– Conventional Implants — Traditional implants are commonly the size of a tooth and they can be used to replace one or more teeth at once. To accommodate the missing teeth, the implant is simply made larger and more teeth are added to it. These are bolted to the jawline using metal screws that are implanted into the bone.

– Mini- and Micro-Implants — Using smaller bolts to take up less space, mini-implants are only a few fractions of a millimeter smaller than regular implants. Micro-implants, while uncommon, are even smaller. They are used when the space between teeth is very small, but instead of a less stable bridge, the patient would like a very secure tooth placed in there.

– Fixed Bridgework — Some bridges are supported by implants, although bridges tend to differ from implants, conventional bridges rely on the surrounding teeth, these are supported entirely by the implant and are incredibly stable and secure.

– Over-Dentures — Used when a patient has lost all of their teeth on one or both dental arches, the over-denture helps protect the gum and bone caused by dentures rubbing against the gums. While this can lead to bone loss, it can also be prevented by using a dental implant. To protect the bones underneath, the implant goes into the bone and raises the denture above the gum line.

– Tooth Movement — Implants can be used in cases where teeth need to be moved around and shifted slightly, allowing them to go where they are supposed to. For better alignment, orthodontics will often require that teeth move slightly.

– Temporary Implants — In some cases, micro-implants are used to secure temporary bridgework that is used in place of the actual replacement teeth. The micro-implants can be taken out and the full-sized ones can be used when those teeth are ready and the mouth has healed.
How much do dental implants cost?

The cost of dental implants is unique in each situation and depends on several factors, including:

– The number of implants needed
– The provider's level of experience
– The provider's location
– The type of implant used
– The cost of diagnostic tests
– Which preliminary procedures are performed
– Whether general or local anesthesia is used

Based on the aforementioned factors, the average cost of dental implants is $7,375, while a single implant typically costs between $1,000 and $3,000.
What is the best age for dental implants?

Dental implants are not recommended for patients under the age of 18 because their bone tissue is still developing and their jaw is still growing. On the other hand, over the age of 18, there is no age limit or "best age" to receive dental implants. However, dental implants are best performed on people who have good dental health; poor oral hygiene may need to be addressed before dental implants can be applied.
What are the benefits of dental implants?

There are many benefits of dental implants:

– Prevents bone loss
– Matches natural teeth
– Restores bite force
– Prevents changes in the face's shape
– Enables natural speech
– Will not get cavities
– Easy to care for
– No embarrassing slippage
– Supports adjacent teeth
– A permanent solution to tooth loss

If you are looking for dental implants, come to Allure Dental Center today. Our dental professionals are experienced providers of dental implants and can help you achieve a full smile. Call us today to book an appointment with our dental implants specialist. We serve patients from Mountain View CA, Sunnyvale CA, Los Altos CA, Stanford CA, Menlo Park CA, Atherton CA, Loyola CA, Cupertino CA, Palo Alto CA, Redwood City CA and surrounding areas.

Additional Services You May Need