Denture Specialists for Seniors in Bay Area
Dentures are an effective option for tooth loss in elderly people as they are fully removable. The flexibility to remove their tooth substitute option makes cleaning and caring for them easier. If you are looking for a denture for yourself or someone you know who is an adult and has tooth loss, visit Allure Dental for proper denture treatment specifically designed for adults to meet their needs. Dr. Trinh Lee and

Dr. Suzanna Lee

will provide you with the appropriate treatment. For more information, contact us or schedule an appointment online. We serve patients from Mountain View CA, and surrounding Bay Area cities.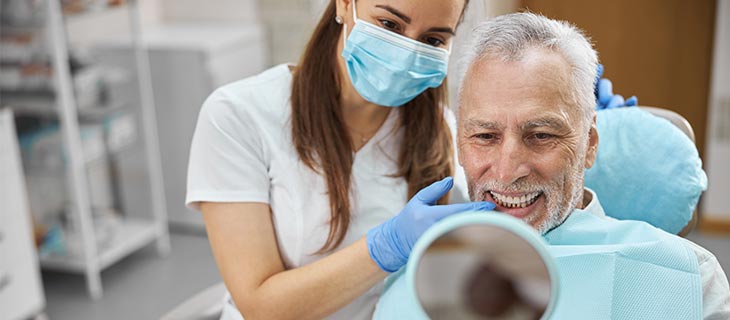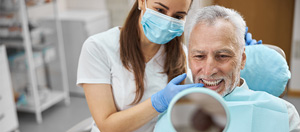 Table of Contents:
What are the options for the elderly losing teeth?
What type of dentist is best for dentures?
What are denture problems in the elderly?
Which elders are eligible for dentures?
Losing adult teeth can occur at any age, but is particularly common among the elderly population as one of the effects of aging includes increased decay of teeth and gum disease, resulting in many retirees opting for dentures or dental implants to restore their smile. There are many different tooth replacement options to fit the needs and requirements of each individual patient to ensure that everyone is able to have a beautiful smile and can enjoy their favorite foods for years to come.
What are the options for the elderly losing teeth?

Dental implants are most likely going to be the best treatment option for replacing teeth that have been lost, even in elderly patients. Dental implants can be used to replace one or two teeth, providing a permanent option to replace both the tooth's body and roots that can last for the rest of the patient's life when properly maintained, restoring full function and aesthetics to the patient's bite. There are also implant bridges that can be customized to fit and replace teeth when several have been lost, with 3, 4, or 5 teeth all being accurately created to fit nicely together and permanently implanted to restore the appearance and function of the bite. If all of the teeth need to be removed, full mouth options are available, both as permanent implants and as removable dentures. There are some variations to each of these options as well, providing patients with the most natural and functional option available to restore their beautiful smile and full function.
What type of dentist is best for dentures?

There are several different types of dentists who are qualified to fit their patients with dental implants and dentures, but it is highly recommended that patients find a dentist that has specific expertise and has received supplementary training, making them one of the best in their field to provide you with high-quality and properly fitted dentures. With so many different dental restoration options to choose from, having a highly skilled and trustworthy dentist with certifications and experiences with cosmetic dentistry, oral implantology, and implant dentistry is essential in ensuring that you receive the care and attention required to restore the function and beautifully natural appearance to your smile.
What are denture problems in the elderly?

The most common problem that an elderly patient will have with their dentures will be the actual fit of the dentures. A proper fit for dentures will determine how comfortable they are to wear, with many patients experiencing unnecessary soreness, swelling and pain due to rubbing occurring with a poorly fitted denture set. When dentures are being worn for hours every day, discomfort can quickly develop if there is any space left for the dentures to rub against the wearer's gums, leading to significant discomfort and pain, making it very difficult for the patient to eat or speak comfortably. Other problems that can develop due to poorly fitted dentures include unhealthy eating habits as the patient tries to cope with the discomfort and pain that is now associated with enjoying healthy foods with harder textures, and if left unresolved often leading to malnutrition, weight loss, and sometimes developing to the point of an eating disorder. Other problems resulting from poorly fitted dentures include changes to the jaw joint, atrophy of the jawbone, denture stomatitis, and incurring damage to the dentures. Almost all problems that are commonly associated and experienced with dentures can be solved by ensuring that the dentures are properly and comfortably fitted to the wearer's gums.
Which elders are eligible for dentures?

When determining eligibility for receiving dentures there are no age restrictions, making them a great option for many patients, but particularly common among those aged 65 and older. To be eligible to receive dentures, patients will need to have healthy gums and sufficient remaining jawbones to properly fit and support the dentures. With several different types of dentures available, there is no exact number of teeth that need to be missing in order to make dentures the right choice for the patient as there are dentures that can be used to replace even just one tooth, several teeth, or the entire mouth, depending on what the patient needs.

Dentures for seniors are available at Allure Dental. For more information, contact us or schedule an appointment online. We serve patients from Mountain View CA, Sunnyvale CA, Los Altos CA, Stanford CA, Menlo Park CA, Atherton CA, Loyola CA, Cupertino CA, Palo Alto CA, Redwood City CA and surrounding Bay Area cities.

Additional Services You May Need