Invisalign Process and Timeline
The typical timeline for successful Invisalign treatment is 8–16 months, but this may vary depending on the severity of your case. Invisalign Clear Aligners will give you the smile you want. At Allure Dental Center, Dr. Trinh Lee and

Dr. Suzanna Lee

offer Invisalign for people of all ages. For more information, contact us or schedule an online appointment. We serve patients from Mountain View, CA and surrounding Bay Area cities.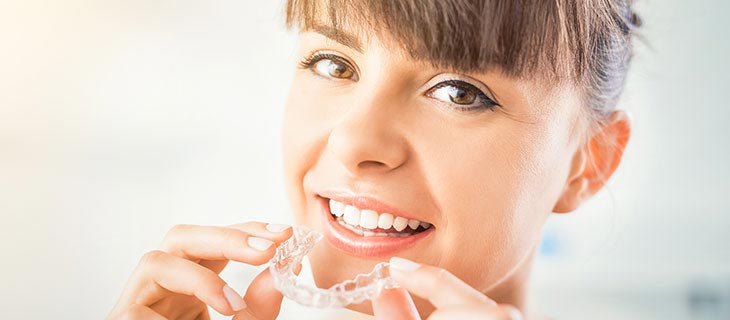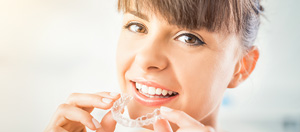 Table of Contents:
How long does the Invisalign process take?
What are the stages of Invisalign?
Can I speed up the Invisalign process?
The world has advanced in so many ways, and in the blink of an eye we have gone from rotary phones to smartphones, and if you can believe it, from metal braces to invisible braces. Times have changed and the dental industry is being transformed with new technologies and procedures. A case in point is Invisalign – clear, removable aligners that help straighten your teeth. Invisalign is the new alternative to fixing a smile, and they are fashionable, convenient, and comfortable. If you are looking for an alternative to metal braces, then Invisalign is for you. Allure Dental Center in Mountain View, CA, offers Invisalign, so reach out to us today and discover how we will make you smile again. Call us today, we are accepting new patients: 650-538-8826.
How long does the Invisalign process take?

Your journey with Invisalign starts with a consultation. Your dentist will book you in to closely evaluate your smile and map out a digital treatment plan that highlights how the treatment will transform your smile. Your dentist will then create your unique set of aligners that you will wear for 20 to 22 hours each day. You will change to a new set of aligners every 1 to 2 weeks, as directed by your dentist. Each set will gradually shift your teeth into their right place. Once you have your beautiful smile, your Invisalign treatment will be complete.
What are the stages of Invisalign?

There are normally three stages involved with Invisalign. The first is planning the treatment, which involves your dentist taking digital x-ray images of your teeth. The results are shared with Invisalign software and allow your dentist to virtually plan the exact movement of your teeth throughout the entire treatment. Your case is then sent to a dental lab where a number of aligners are designed to move your teeth sequentially through treatment. Second, you will be instructed to wear your aligners for at least 22 hours a day for about two weeks (you can take them out for drinking, eating, brushing, and flossing), then you will move into a new set of aligners in the series. The length of treatment is different for everyone; however, results can be achieved within a year. Third, once you are committed to the treatment you can smile with confidence with your new retainer. Your dentist will remind you to wear your retainer at all times for straighter and healthier looking teeth.
Can I speed up the Invisalign process?

For faster results to get that beautiful smile, your dentist will always advise you to follow the treatment plan. Changing out your aligners sooner may cause permanent damage, but there are a few things you can do in order to get faster results. You will need to see your dentist at least once a month for a quick 10-to-15 minute-appointment; canceling or delaying your appointment may cause your results to be delayed, hence interfering with your goal of speeding up the Invisalign treatment. Also, make sure you wear your aligners for at least 20 hours per day, because if you don't then you will further delay your treatment. Your teeth need consistent pressure on them to move properly, so if the tray keeps coming off on a frequent basis for long periods of time, your teeth will shift back to their previous location. Too much back-and-forth will cause damage to the root and cause relapse. Additionally, your dentist will always recommend that you take care of your aligners in a protective case and to keep them clean. Always brush and floss your teeth before inserting your aligners. Dental work, like getting fillings, might slow down your Invisalign treatment. In all, follow the advice of your dentist for faster results and you will be pleased with your teeth once the treatment is completed.

Allure Dental Center in Mountain View, CA, offers Invisalign, so contact us today to learn about this treatment that will give you your smile back. We are located at 570 N. Shoreline Blvd, Mountain View, CA 94043. Call us to learn more about Invisalign and its benefits.

Additional Services You May Need