Invisalign vs. Braces for Straightening Your Teeth Q & A
Allure Dental Center in Mountain View, California offers both Invisalign Orthodontic Treatments and Traditional Braces. Please contact us to get a full appraisal of the costs and benefits of each type of orthodontic treatment to best meet your individual dental needs. We serve patients from Mountain View CA, Sunnyvale CA, Los Altos CA, Stanford CA, Menlo Park CA, Atherton CA, Loyola CA, Cupertino CA, Palo Alto CA, Redwood City CA and surrounding areas.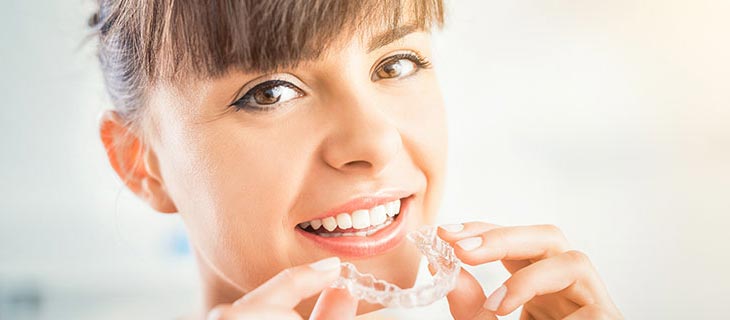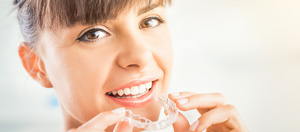 Table of Contents:
What is better for your teeth braces or Invisalign?
How much do Braces cost vs. Invisalign?
Can Invisalign be used instead of braces?
How long does it take to straighten teeth with Invisalign?
If you are worried that you may have crooked teeth and are in the Mountain View, California area, please consider making use of Allure Dental Center. Here at Allure Dental Center, we offer both Braces and Invisalign orthodontic treatments and can make proper recommendations for our patients regarding which treatment will best serve their dental and financial needs.
What is better for your teeth braces or Invisalign?

Both treatments have their place and are useful for different dental concerns. Invisalign is a top tier treatment for aesthetic dentistry that can help straighten teeth and enhance their appearance, though the treatment is not useful for major dental concerns. Invisalign is not recommended for growing teeth as it often will not give the support needed for teeth to grow correctly. Invisalign treatments can also be removed if they become uncomfortable though this has the added complication of needing to remember to keep your Invisalign in to maximize your results. Braces are semi-permanent and primarily functional rather than aesthetic and are useful for fixing complex dental issues. As the focus with braces is on functionality rather than aesthetics, they often do their work faster, aligning teeth and closing gaps with maximum effectiveness.

Invisalign is the preference for many patients due to its appearance and comfort compared to traditional metal braces, which can cause speech difficulties, be uncomfortable or leave sores where the brackets sit. The removability of Invisalign also makes it easier to clean your teeth as you will be able to simply pop out the plastic and perform your standard dental cleaning routine rather than needing to manoeuvre around the wires and brackets.
How much do Braces cost vs. Invisalign?

Traditional Braces tend to be more affordable than Invisalign with pricing in the $2500 to $6000 range with Invisalign costing more in the range of $3500 to $8000. However, depending on the complexity of the dental issue and the other advantages of Invisalign many find the price difference insignificant. As well Invisalign aligners are not likely to break, thus they potentially have smaller upkeep costs than traditional braces. While the aligners do need to be changed every 2 to 3 weeks to keep up with the changing positions of your teeth the cost of new aligners will be factored into your overall treatment cost. It is important to know that Invisalign treatments are customized for each individual patient and the cost reflects that.
Can Invisalign be used instead of braces?

Invisalign is a less invasive and extremely efficient method for gently straightening the teeth. They are especially useful in simpler cases where straightening is more of an aesthetic concern than a dental health one. Braces should remain the primary choice for serious dental correction as they can be used for a wider array of concerns.
How long does it take to straighten teeth with Invisalign?

The full results of an Invisalign treatment takes about 12 months on average and many patients report seeing results after a few weeks of the treatment. Depending on the complexity of the fix, traditional braces can take anywhere from 12 months to 3 years of treatment. However it is important to note that some of the longest and most complex treatments are simply not possible using Invisalign.

At the end of the day, it is important to have as much information as possible regarding the effects of both types of orthodontic treatment and choose which is right for you. If you would like more information about either traditional braces or Invisalign, and are in the Mountain View, California area please contact us at your earliest convenience to book an appointment to meet with our professional staff and discuss what options are best for you.

Additional Services You May Need