Pediatric Dentistry in Mountain View, CA
Allure Dental Center pediatric dental checkups, teeth strengthening mineral application, pediatric dental, sealants and many more! For more information please call us or request an appointment online now. We serve patients from Mountain View CA, Sunnyvale CA, Los Altos CA, Stanford CA, Menlo Park CA, Atherton CA, Loyola CA, Cupertino CA, Palo Alto CA, Redwood City CA and surrounding areas.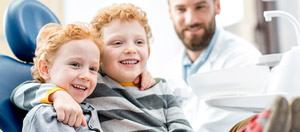 At Allure Dental Center, we love kids! Drs. Trinh Lee and Suzanna Lee provide children's dental services and enjoy working with our younger San Francisco Bay are patients at our Mountain View, CA kids dental clinic, providing the best pediatric dentistry services and helping your son or daughter enjoy their trip to our office.
Early dental care can help your son or daughter avoid complications like tooth decay, crowded teeth and fear of the dental office. Drs. Trinh Lee and Suzanna Lee are extremely gentle and patient with your little one – putting their mind at ease, as well as yours!
Our pediatric dentistry services are focused on prevention. We start with a preventive cleaning and exam, followed by oral hygiene instruction.
We recommend that all children over the age of 1 have a dental check-up at least twice each year. This gives Drs. Trinh Lee and Suzanna Lee the chance to assess for problems when they are very small and easier to correct.
Preventing Tooth Decay with Dental Sealants
One of the most common places we see cavities is in the deep grooves, pits and fissures of the back teeth. Why? Because they are so narrow, even toothbrush bristles can't keep them clean. Thankfully there's a simple, non-invasive way for Allure Dental Center patients to reduce their risk of tooth decay while also improving their oral hygiene with the application of dental sealants.
Dental sealants are preventive restorations that cover the deep grooves of your back teeth. They take less than 5 minutes to apply and no drilling or shots are needed!
Orthodontic Choices For All Ages
Orthodontic metal braces are an option for both our adult and pediatric patients. The American Association of Orthodontists recommends that all children have their first orthodontic evaluation by age 7. When your child is here for his or her check-up, Dr. Trinh or Dr. Suzanna will assess their bite and eruption patterns and provide any recommendations as necessary. Early intervention is key!
Call our Mountain View office to schedule your family's visit to our Mountain View, CA office in the Bay Area today. Ask about our orthodontic services and flexible appointment times.
For the rest of the family, our general dental services are designed to help you eliminate aggressive pain and disease from your smile.

Additional Services You May Need