Pediatric Dentist in Mountain View CA
Visiting your child's pediatric dentist is a great way to ensure that they receive the necessary dental treatment. Children are more prone to tooth decay than adults, which is why it is essential to ensure that proper dental care is provided by visiting a pediatric dentist on a regular basis. Our experienced dentists Dr. Trinh Lee and

Dr. Suzanna Lee

are ready to help your child develop and maintain lifelong oral health practices. For more information, contact us or schedule an online appointment. We are conveniently located at 570 N Shoreline Blvd Mountain View, CA 94043.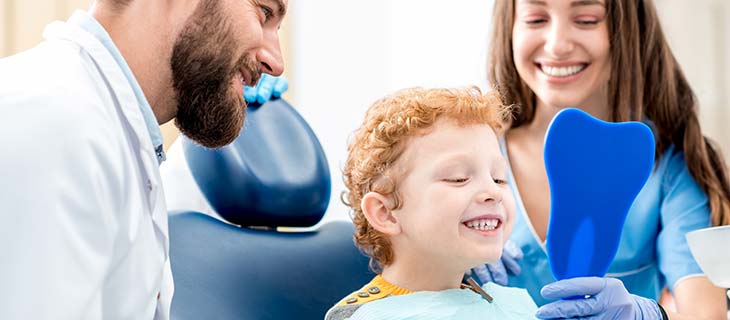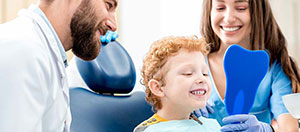 Table of Contents:
How long should I wait to bring my child to visit the dentist?
What's the difference between a family dentist and a pediatric dentist?
Are dental X-rays safe for my child?
Is fluoride toothpaste safe for babies and toddlers?
How long should I wait to bring my child to visit the dentist?

Children should be visiting with a dentist after 6 months of their very first tooth appearing. Typically, in the United States, 94% of parents bring their children to the dentist for the first time around the age of 3 years old. After their initial appointment, dentists usually recommend children visit the dentist biannually, or twice a year. It is important for a child to see a dentist while they still have their baby teeth due to the fact that baby teeth are very delicate and are susceptible to damage, such as cavities.

Having a dentist checking on your child's teeth from a young age can prevent any complications that could arise from having the tooth fall out and cause some jaw complications. These visits early on can also detect any tooth decay and can help you receive any immediate medical interventions your child may need as a result of a cavity or tooth decay.
What's the difference between a family dentist and a pediatric dentist?

A family dentist is known as a general dentist, and this means that they specialize in general or family dentistry. They spend three to four years in an undergraduate program and then go into another four years of dental school. A family dentist treats any issues that arise primarily in adult teeth. General or family dentists do not have the required specialization to work on a child, but some family dentists do treat children. Pediatric dentists in contrast are the most highly trained dental specialists that work with infants and young children.

Due to several more years of training than a family dentist, these dental specialists are in a more qualified position to treat any active dental disease, tooth decay, cavities, and much more. They have more experience that gives them the opportunity to offer a more definitive, comprehensive, and atraumatic dental disease treatment for children.
Are dental X-rays safe for my child?

The American Dental Association has deemed that dental x-rays are safe for children to have done. These x-rays are known to not give off a lot of radiation compared to a normal film x-ray of a bone or other body part, and these dental x-ray machines are known to expose your child to less than 90% of the radiation that they can be exposed to from a normal x-ray machine.

Some dental offices may require your child to wear protective lead aprons during the x-ray, to help protect the child. Some states do not require the lead aprons as the machines give off a very little amount of radiation, and because the child is much smaller than an adult, the x-rays are much shorter in length, which lessens their exposure.
Is fluoride toothpaste safe for babies and toddlers?

It is not recommended for babies and toddlers to use fluoride toothpaste at such a young age. Using fluoride toothpaste on a young child or infant can lead to something called Fluorosis. Fluorosis happens when fluoride toothpaste is swallowed and can interfere with the development of a child's enamel and cause a child to have white streaks on their teeth. Fluorosis can also cause a child to suffer from gastrointestinal problems if they swallow a large amount of it. It is recommended by the American Academy of Pediatrics and the American Association of Pediatric Dentistry that babies and toddlers use fluoride-free toothpaste until the age of 3-6 years of age. Once the child is around that age range, you can slowly start introducing fluoride toothpaste in small amounts to limit the chances of the child developing Fluorosis.

For more information on Pediatric Dentistry, reach out to our team of pediatric dentists at Allure Dental Center. We are composed of pediatric dentists that absolutely love to work with children and make their smiles bigger and brighter. We are here to answer any questions you have and needs that need to be addressed. We serve patients from Mountain View CA, Sunnyvale CA, Los Altos CA, Stanford CA, Menlo Park CA, Atherton CA, Loyola CA, Cupertino CA, Palo Alto CA, Redwood City CA and surrounding Bay Area Cities.

Additional Services You May Need