Removable Partial Dentures: Everything You Need to Know About
Removable partial dentures offer a secure and comfortable solution to replace missing teeth, allowing you to enjoy your favorite food with ease. Come to Allure Dental Center for a consultation with our dentists Dr. Trinh Lee and Dr. Suzanna Lee to get removable partial dentures. For more information, contact our office or book an appointment online now. We are conveniently located at 570 N. Shoreline Blvd, Mountain View, CA 94043.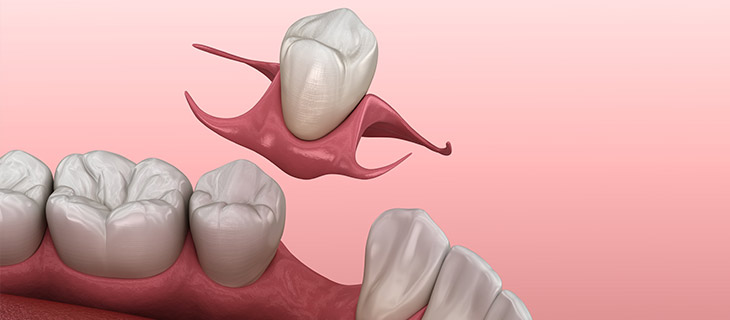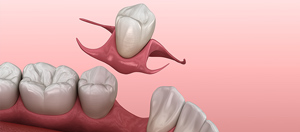 Table of Contents:
How do partials stay in place?
Can you eat with removable partial dentures?
Should I wear my partials all day?
How much do removable partial dentures cost?
How do partials stay in place?

Some of the characteristics of partials that help them stay in place include:

– Precision fit – Dentists ensure partial dentures are precisely crafted to fit your mouth contours. You can speak, eat, and smile with confidence thanks to this snug fit, as it provides significant stability.

– Natural suction – The fit between the partial denture and your gums creates a natural suction effect, contributing to the overall stability of the appliance.

– Framework – The custom-made metal or acrylic framework fits snugly around your natural teeth. This framework serves as an anchor, giving partial dentures support and stability.

– Denture fixatives – Denture adhesives, available in various forms, provide additional support by creating a temporary bond between the partial and your gums.

– Clasps – Some partial dentures have tiny, understated metal clasps that fit over nearby healthy teeth. These clasps hold the partial in place and prevent movement or shifting.

By combining these factors, removable partial dentures offer a secure and comfortable solution to replacing missing teeth, allowing you to enjoy your favorite activities with ease. Consult our knowledgeable team to explore if partial dentures are the right choice for you.
Can you eat with removable partial dentures?

Yes, removable partial dentures are designed to restore your ability to eat comfortably and enjoy a wide range of foods. You can confidently indulge in your favorite meals with removable partial dentures. Partial dentures offer:

– Stability – Partial dentures' framework and clasps guarantee a snug fit that reduces movement while eating.

– Improved chewing function – Custom-made partial dentures fit your mouth and offer dependable support. You can properly bite and chew as they are specifically made to withstand the forces of chewing.

– Precise fit – To create partials that fit comfortably, skilled dentists take precise measurements and impressions of your mouth. Your ability to eat is improved by this custom fit as it offers significant support.

– Gradual adaptation – While getting used to eating with partial dentures may take some time, most people quickly get used to the new sensation. Start with soft foods and add harder ones gradually as you get more accustomed to your partial dentures.
Should I wear my partials all day?

Wearing your partial dentures for the appropriate duration is important for both comfort and oral health. The general guidelines for determining when and how long to wear your partials are:

Gradual adaptation – When you first receive your partial dentures, your dentist may recommend wearing them for most of the day initially. This allows your mouth to adjust to the newly installed appliance gradually.

Chewing and speaking – Wear your partials during meals so you can properly chew and enjoy your food. They also help with clear speech, giving you the confidence to communicate effectively.

Rest – It's beneficial to give your gums and supporting tissues a break. Your dentist may advise removing the partials for a few hours each day to allow your mouth to rest.

Cleaning and maintenance – Remove your partial dentures before bedtime to properly clean and care for them.

Carefully follow your dentist's specific instructions regarding wearing times as they vary depending on your individual needs. Regular dental check-ups will ensure partial dentures fit and function optimally. By balancing wear and rest, you can maintain both comfort and oral hygiene while enjoying the benefits of your partial dentures.
How much do removable partial dentures cost?

Removable partial dentures range in price depending on several elements, such as the materials used and the number of teeth being replaced. Partials can cost anywhere between $700 and $3000. Without a specific consultation, it's difficult to provide an exact figure, but there are some general factors to consider:

The material used – Various materials, such as acrylic or metal frameworks, can be used to create removable partial dentures. Given their sturdiness, metal frameworks are typically more expensive.

Number of teeth – Depending on how many teeth need to be replaced, the price will fluctuate. The complexity and number of materials needed to make a partial denture increase with each additional tooth.

Additional treatments – If any preparatory procedures, such as tooth extractions or gum treatments, are necessary, they increase the overall cost.

For more information about partial dentures, call us or book an appointment online. We serve patients from Mountain View CA, Sunnyvale CA, Los Altos CA, Stanford CA, Menlo Park CA, Atherton CA, Loyola CA, Cupertino CA, Palo Alto CA, Redwood City CA, and surrounding areas.

Additional Services You May Need