Yellow Teeth: Causes, Home Remedies, and Treatment Options Questions and Answers
Are you worried about your yellow teeth? Don't be because our top dentists at Allure Dental Center in Mountain View CA, provide effective treatment for yellow teeth and all types of dental problems. For more information please call us or request an appointment online now.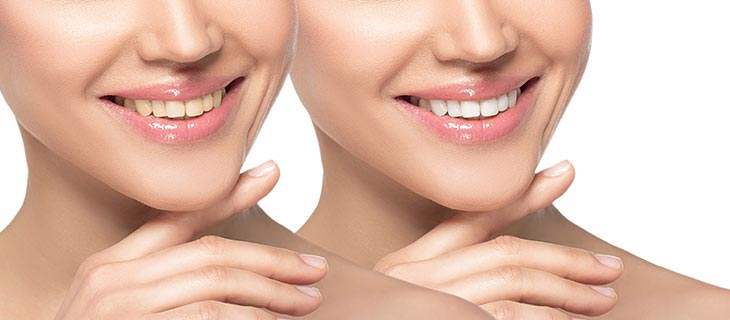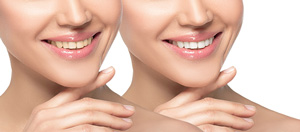 Table of Contents:
What causes yellow teeth?
How can yellow teeth be prevented?
How do you whiten yellow teeth?
Are there any home remedies to get rid of yellow teeth?
While yellow teeth are a common problem to experience, they can also be cause for a lack of confidence in one's smile and appearance. For that reason, we are proud to provide first-rate teeth whitening treatments at Allure Dental Center! Our board-certified dentists would be happy to provide you with teeth whitening treatment if you are dealing with yellow or discolored teeth.
What causes yellow teeth?

Yellow teeth occur when the protective enamel on the outside of each tooth becomes stained or too thin, causing the yellow-brown dentin underneath to show through the enamel. There are numerous causes of yellow teeth, some of which are unavoidable but treatable, while others are brought on by lifestyle habits and choices. With that in mind, some common causes of yellow teeth include the following:

– Aging
– Antibiotics
– Certain beverages, such as coffee, tea, or wine
– Damage or trauma to one or more teeth
– Dentin and thin enamel
– Excess fluoride
– Genetics
– Tobacco use
– Tooth grinding, also known as bruxism
– Various foods, such as pasta sauce, curry spices, vinaigrettes, or berries
How can yellow teeth be prevented?

For most causes of yellow teeth, prevention can be as simple as taking regular care of your teeth. With that in mind, to avoid getting yellow teeth from food or beverages, it is important to brush your teeth twice a day, use mouthwash, and floss at least once per day. However, some causes of yellow teeth cannot be altogether prevented or require more advanced measures, such as aging, genetics, tooth grinding, tooth damage, or certain antibiotics. In such situations, preventive measures may include teeth whitening procedures, treatment for enamel loss, as well as therapy to reduce tooth grinding.
How do you whiten yellow teeth?

If you require professional teeth whitening services, there are several different options you can choose from at Allure Dental Center. Our teeth whitening treatment options include both in-office and at-home procedures, as well as a combination of both.

Teeth whitening treatment options

Our teeth whitening treatment options at Allure Dental Center are as follows:

– ZOOM!TM In-office teeth whitening: ZOOM!TM teeth whitening works via a bleaching process using a hydrogen peroxide whitening gel and a special light to penetrate the teeth and break up stains and discoloration. ZOOM!TM treatment is quick—less than an hour—and produces immediate results.

– KöR® Whitening: The KöR® teeth whitening process is more extensive than ZOOM!TM, as it is designed to treat deeper stains and discolorations. Two weeks prior to the KöR® teeth whitening procedure, patients are given a dental tray and hydrogen peroxide gel to allow the teeth to have more exposure to the gel. The dental tray seals out saliva and gingival fluid to prevent it from diminishing the effect of the gel. The tray and gel are directed to be applied each night until the appointment. At the teeth whitening appointment, an oxygenated gel will be applied to dissolve and further remove stains and discoloration.

– Dental Whitening Take Home Trays: we also provide custom whitening trays that require 10 to 14 days of use to achieve full whitening results.
Are there any home remedies to get rid of yellow teeth?

While they are unlikely to be as effective as professional teeth whitening treatment, there are several different home remedies you can try to whiten your teeth, such as oil pulling. With that being said, it is best to consult with your dentist about such home remedies before trying them so that you do so safely and effectively. Moreover, not all home remedies are for everyone, as certain remedies that help some people may have a negative effect on other people's teeth, depending on the health and structural integrity of your teeth.

For more information about professional or home remedy teeth whitening options, we welcome you to get in touch with us at Allure Dental Center! If you would like to schedule an appointment with us, please feel free to do so through our website or by calling us. We serve patients from Mountain View CA, Sunnyvale CA, Los Altos CA, Stanford CA, Menlo Park CA, Atherton CA, Loyola CA, Cupertino CA, Palo Alto CA, Redwood City CA and surrounding areas.

Additional Services You May Need