Cost of Dental Veneers Questions and Answers
If you want beautiful and even smile, Veneers are an excellent way to mask small imperfections. At Allure Dental Center, we offer affordable dental veneer services from Mountain View CA, Sunnyvale CA, Los Altos CA, Stanford CA, Menlo Park CA, Atherton CA, Loyola CA, Cupertino CA, Palo Alto CA, Redwood City CA and surrounding areas. For more information please

call us

or

request an appointment online

now.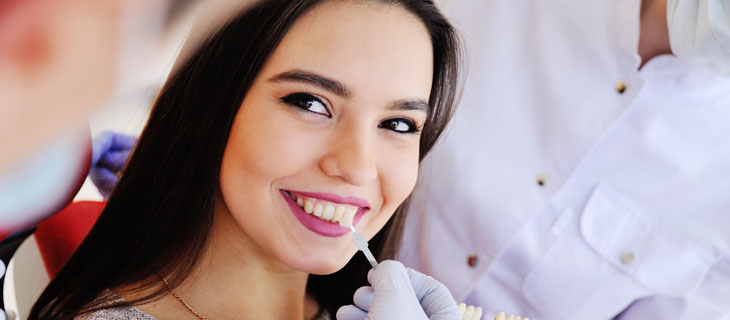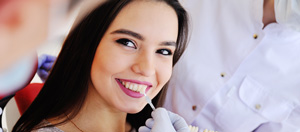 Whether you are dealing with chips, breaks, or discoloration in your teeth, dental veneers can be an excellent solution to those problems. Dental veneers come in both temporary and permanent options. At Allure Dental Center, we proudly provide dental veneer services to our valued patients from Mountain View, CA, and the surrounding area.
How much do a full set of veneers cost?
The cost of a full set of veneers depends on a few different factors, including the type of veneer material used, whether the veneers are permanent or temporary, and if other dental conditions need to be treated first. Moreover, prices for a complete set of veneers often vary from clinic to clinic.
If you would like to know or get an estimate for what a full set of veneers will cost at Allure Dental Center in Mountain View, CA, we welcome you to call us! One of our friendly administrative team members would be pleased to give you a better idea of what a complete set of veneers will cost at our clinic.
Are There Different Types of Dental Veneers?
There are several different types of dental veneers, as veneers vary in terms of the material used, whether they are complete, partial, or removable, and other distinguishing factors. The following are a few of the different types of dental veneers:
Complete veneers: veneers that cover every tooth
Composite veneers: made from engineered resin, manufactured at the clinic, and directly applied to the teeth
Lumineers: brand of veneers that are made from laminate and do not require any preparation before applying
Partial veneers: veneers that cover some teeth but not all
Porcelain veneers: permanent veneers made from porcelain in a laboratory, requiring temporary veneers until the permanent veneers are ready
Removable veneers: snap-on veneers that come in both prefabricated and custom-made sets
Do the Different Types Vary in Price?
The different types of veneers vary in price to accommodate the diverse needs, wishes, and budgets of various patients seeking to correct dental issues with veneers. With that in mind, on the higher end of dental veneer prices are complete veneers made from porcelain. In comparison, the lower end of dental veneers involves those made from composite material, veneers that are removable or partial, and Lumineers. In general, the more expensive types of veneers are more permanent and of higher quality, while the less expensive options provide a quicker fix and are easier to repair but are made from inferior materials.
Does Insurance Help With the Cost of Dental Veneers?
While your health insurance plan may cover a portion of the cost of dental veneers, it is not a guarantee. Dental insurance plans are more likely to help with the cost of dental veneers if they are performed as a restorative procedure rather than for cosmetic purposes. With that in mind, it is a good idea to check with your insurance company beforehand to find out their coverage policies for dental procedures such as veneers.
As for us at Allure Dental Center, we accept most major health insurance plans! As such, if your insurance plan provides coverage for veneers, we would be happy to accommodate that. Some of the insurance plans that we accept include the following:
Aetna
Aflac
Anthem
Beam insurance
Careington
Cigna
Delta Dental
Dental Select
Dentegra
Guardian
HealthEquity
HealthNet
Humana
Metlife
Premera
Premier Access
Principal
United Concordia
UnitedHealthcare
If you are interested in learning more about dental veneers or would like to schedule an appointment with us at Allure Dental Center, we welcome you to call us or schedule an appointment through our website.

Additional Services You May Need